Grow Your Business in Lockdown
Grow your business in lockdown
Event update: If you would like to view what Sue Windley, Denise Anstey and Robert Zarywacz had to say about growing a business in lockdown, here is the link to the recording of our webinar (50 minutes).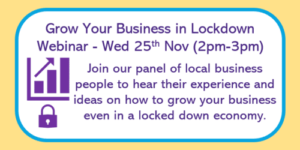 As we face yet another lockdown, I have been having many conversations with business owners about trying new approaches to surviving or growing business with all the changes that are out of our control. Along with many discussions on social media, one chat I had with Robert Zarywacz of Business Action magazine stood out. We were both commenting on the steep learning curve many of us have had to get our businesses re-directed to operating exclusively online – and what it would take to change from thinking about 'survival' to 'growth in new times'.
I was in the middle of designing a new workshop for the Be Ready Employer Hub "Accessibility for Websites" (available to book in January 2021) and had been astounded at the statistics about the rate of change in the digital world that the pandemic had forced on all of us – particularly the effects on disabled web users who have to cope with non-accessible websites. Sadly whilst all public sector websites had to be accessible by law from 23rd September 2020, only 30% of commercial websites get close to the Web Content Accessibility Guidelines (WCAG) AA standards for accessibility. Yet the online buying power of people with accessibility needs was estimated to be worth £24.8 million.
But rather than keep the interesting outcomes of our chat to ourselves, we have decided to co-deliver a webinar as part of the #PurpleTuesday activities in November. We will also be joined by Denise Anstey of Heartfelt Products who will share her experience of personal adversity and how it made her more determined to succeed.
So join us online on Wednesday 25th November at 2pm for some off-the-wall ideas about how to grow your business in lockdown.
Sue Windley (Be Ready Employer Hub Project Co-Ordinator)