#PurpleTuesday Free Webinar
Map Unavailable
Date/Time
Date(s) - 02/11/2020 - 03/11/2020
2:00 pm - 3:00 pm
Categories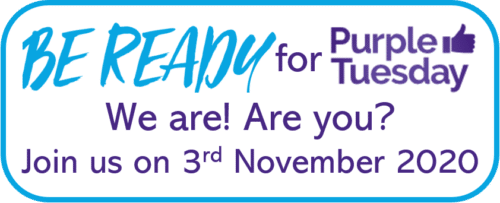 Would you like to have customers with a spending power of £274 billion per year in the UK?
Or access to 7.1 million online customers who spend £3640 each on average each year?
Then join us to find out what #PurpleTuesday and the Purple Pound is all about!
#PurpleTuesday is an annual national campaign to get us think about the needs of disabled people as customers and how we can make their customer experience better.
Primarily focused on retail – but also vital for any business that sells online – #PurpleTuesday promotes those businesses who have a made public commitment to change their customer service approach for disabled customers. And it highlights the commercial value of doing the right thing for customers with disabilities.
For example, did you know a fifth of the UK's population has a disability? And together with their families and friends, disabled people have a spending power valued at £274 billion – known as the Purple Pound market. But less than 10% of businesses in the UK know how to access this market. Not only is it hugely frustrating for disabled people, it is also a big missed commercial opportunity.
Be Ready Employer Hub is participating in two webinars at the start of November to celebrate #PurpleTuesday:
Both webinars will feature a panel of local business people who will share their experience of catering to the Purple Pound market, along with practical tips of how to make your business more accessible too. (It's easier than you might think!). Plus you'll have a chance to ask questions to get an insight into how to grow your business in these uncertain times.
These webinars are free to join online – just click on the links to register here to receive your invite and joining instructions: