Firms 'lose trillions' by ignoring disabled consumers
The Valuable 500 reaches its goal
500 CEOs of major corporations commit to disability inclusion
The following is an article that originally appeared on the BBC News website (Follow this link to access the original article)
We have summarised the article below.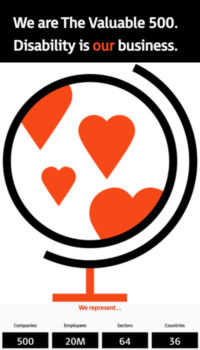 The Valuable 500 campaign launched in 2019 at the World Economic Forum meeting to persuade 500 large private sector corporations to put disability on the business leadership agenda to help unlock the social and economic value of 1.3 billion people living with disabilities across the world. Two years later with the sign-up of Apple, BP and Coca-Cola, the initiative has reached 500 signatories.
These 500 companies cover 36 countries, work across 64 sectors with combined sales of more than $8 trillion and employ over 20 million staff. But a key point of the article focuses on how much firms lose by not thinking about their disabled customers. Founder Caroline Casey told the BBC: "As we move out of this pandemic and we need to recover, why would any business look at leaving $13trn on the table?"
The UK's FTSE companies are certainly not leading by example: one third do not have an accessible website; they have no executives or senior managers who have disclosed a disability, and the average representation of people with disabilities among staff reported by the FTSE 100 firms is just 3.2%. This is compared to the Office for National statistics figure of 19% across al businesses in the UK.
The be Ready Employer Hub has covered the 'Click Away Pound' on our Information Hub – this link takes you to the original article.
All the companies who have signed up to the Valuable 500 initiative have made a public commitment to advancing disability inclusion for their employees, customers and supply chains. Caroline Casey continues: "Why would any business, an intelligent business leader, leave behind 15-20% of the global population. It would be madness absolute madness."
External news article – all publishing rights and copyright remain with the original publisher and author.