Disability Confident
Join the 17,000+ UK organisations who have already signed up
How Disability Confident are you?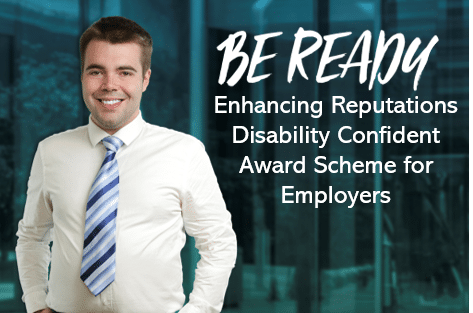 Over 8 million working age people have a disability or long-term health condition in the UK. So if you're not actively recruiting this talent, your competitors probably are!
The Disability Confident award ensures your organisation and your employees are better informed about employing and retaining people with disabilities or long-term health conditions. It is often seen as a "Badge of Honour" by disabled people. This means as well as demonstrating you are part of the network of UK organisations who lead by example in inclusive recruitment and diverse workforce practices, it is also an opportunity to access the 'Purple Pound" market (the spending power of disabled people, their families and friends, estimated to be worth £249 billion in 2019).
What is the Disability Confident Award?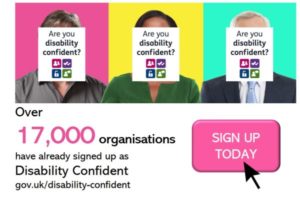 It is a Government scheme supporting employers to make the most of the skills and abilities disabled people can bring to the workplace, allowing you to access the widest possible pool of talent who are committed, loyal and hard working. And not only will you improve existing employees' morale, the award also demonstrates to customers, suppliers and stakeholders that you are committed to equality in the workplace. Research has shown that buying behaviour is increasingly being influenced by the organisation's reputation, especially with regard to ethical work practices.
How can my organisation achieve the Disability Award?
It is easy to sign up! You can go direct to the DWP's Disability Confident sign up page or contact us at the Be Ready Employer Hub and we will show you how.
There are three levels of the Disability Confident award:
Level 1 – Committed (this is what you will sign up to online). You agree to a set of commitments around inclusive recruitment and staff retention practices, and identify at least one action to carry out to make a difference for disabled people in your organisation – these are things you are probably doing already!
Level 2 – Employer – you complete an on-line self-assessment showing how your organisation is progressive around the two themes of inclusive recruitment and retention. Once this is completed, you are registered as a Disability Confident Employer for 3 years.
Level 3 – Leader – this is when your organisation is an active champion or ambassador promoting equal opportunities within your local and business communities. To achieve this level, you are assessed by an external organisation (with lived experience of working with disabled people).
At each level you receive supporting material that enables your organisation to promote your experience of inclusive recruitment and supporting diverse staff development.
How can Be Ready Employer Hub help us achieve the Disability Confident award? As well as providing general advice and support about the Disability Confident scheme, we are also running local B2B Learning Networks that focus on the key elements of how to progress through the different levels. Please Note: the Learning Networks are currently on hold during the corona-virus pandemic. Once the lock down is lifted, we will be organising dates around the county.