B2B Learning Networks
Learn from the business experts - You!
Business to Business Learning Networks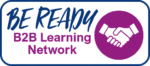 The Be Ready B2B Learning Network is a fully supported programme for Devon-based employers to learn and understand how to recruit, retain and develop a diverse workforce.
Our offer: Practical ways to help your business harness the talent of individuals to the benefit of your business – DELIVERED FREE OF CHARGE.
Our ask of you: just 2 to 3 hours of your time every month to develop inclusive and accessible processes to grow your business, increase productivity and enhance your reputation by progressing through the three levels of the Disability Confident award.
What's involved:
Facilitated business to business (B2B) networking and learning forums either online or in your local area

Meet as a trusted group of business and charity leaders and managers every month for 2-3 hours a time for a maximum of 6 facilitated sessions

Solutions-focused process to help you identify, manage and support disability and diversity in your workplace

Sessions supported by organisations and individuals with lived experience of disability to share practical ideas and solutions

Telephone and on-site support available between sessions by the Be Ready Employer Hub team and specialist providers

Opportunities to meet up with the other B2B Learning Networks across the county

Support provided to progress your organisation through the Disability Confident awards – often seen as a "Badge of Honour" to enhance your business reputation

Programme delivered free of charge to employers
The Be Ready B2B Learning Network is currently only available as online meetings (via Zoom). Once lockdown restrictions have been fully lifted, we will be running these sessions as face-to-face meetings across the county (in Exeter, Plymouth, Torquay and North Devon). You can register your interest for us to contact you via the 'Contact us' section.