Disability and Employment
Disability awareness training for the workplace
A different approach for a different world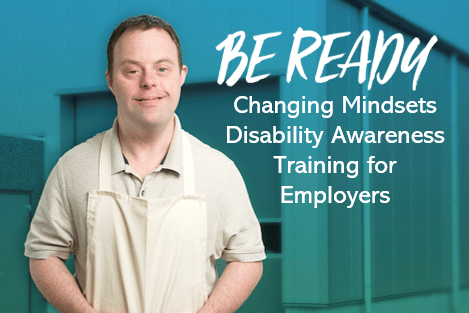 Thanks to our funding, we are able to offer FREE Disability Awareness training to any size organisation or start-up based in Devon. Here's what a recent attendee thought of our Disability and Employment course: "Looking back on the sessions, I think the course structure was perfect.  The modules covered essential information for employers and the topics were accessible, fun and easy to understand.  I really liked the relaxed and inclusive feel with permission to ask questions and "get the language wrong".  The online course format was good because I didn't have to travel and it was just 1 or 2 hours out of my day. I am very keen to keep learning and would love the opportunity to get involved by offering work experience (or something else) in future." (July 2020)
Please Note:
We are currently restructuring our training offerings. These are likely to be shorter online courses that take into scope new working environments following the pandemic. If you would like more information please get in contact via the 'Contact' page.
Previous Courses:
We have two courses currently available to book on our Events Page. You can read outline details of each course below or you can attend a 30 minute Taster webinar which provides an overview of what the courses contain and how we deliver the training (details also on our Events page). Our training is delivered by experienced trainers who have either worked in the field of disability or who bring their personal lived experience as a disabled person.
Disability and Employment
This course provides disability awareness training for Employers, Managers and Owners, including how to retain and recruit the best talent inclusively. It has been designed to support progression through the Disability Confident award (often seen as a 'Badge of Honour' by disabled people). The course is available as an online series (5 x 2-hour weekly workshops for up to 15 attendees from different organisations) or, for larger organisations, as 2 x half-day workshops delivered on-site. The topics covered are:
An Introduction to Disability Awareness in the Workplace, including Models of Disability, the Equality Act (2010) and Disability Discrimination
Reasonable Adjustments – what the Equality Act (2010) requires of employers in terms of disability, such as what are Reasonable Adjustments
Recruitment and Job Carving – how to provide/ enable an inclusive workplace and recruitment process, including ideas for Job Carving
Access to Work Grant and the Disability Confident Scheme – how to apply for the Department for Work and Pensions (DWP) Access to Work grant for employees (includes lived experience by people who have used it) and how to achieve the Disability Confident award to enhance your organisation's reputation.
Language and Communication – this is an optional session on how to overcome language or communication barriers to initiate a more "comfortable" conversation.
Accessibility for Websites
This online workshop provides a non-technical insight for owners / managers into why (and how) making your website more accessible can open up new markets with increased spending power. We will show you how your website is used by diverse audiences, including how to overcome the typical barriers for disabled customers, and how making your website accessible to everyone will give you many more opportunities for business growth. The topics covered in this 2-hour workshop:
The commercial benefits of having an accessible website
What are the most common barriers to online access
Practical tools and tips to enable online accessibility – includes a section on Social Media
There is also the option for a follow-up one-to-one session on how to write an Accessibility Statement (relevant to the size of your organisation). We aim to make our online delivery as interactive as if it was delivered face-to-face, so we ensure each session has plenty of learning activities and time for discussion, but only takes a maximum of 2 hours out of an attendee's work schedule.
We limit each course to a maximum of 15 participants to ensure the optimum trainer-time. Online delivery is usually via the Zoom platform, but we can also provide courses using Microsoft Teams. If you are new to using these platforms, we can provide instructions on how to attend our sessions in the most accessible way possible. Participants receive a Learner Pack ahead of the course which outlines what to expect, a copy of the presentation slides for note taking, plus any additional files or background reading needed for the learning activities. After a course is completed, attendees can also receive a Certificate of Completion if they wish (often useful as evidence of CPD – Continuous Professional Development).
The above courses are also supported by our Business-to-Business (B2B) Local Learning Networks. Delivered as monthly facilitated meetings, these peer-supported networks enable business and charity owners, directors and managers to discuss, analyse and apply practical solutions for any issues or situations around the topic of disability and employment. More information is available on B2B Local Learning Networks
---
Please Note: Due to the way all Be Ready Employer Hub services are funded, they are only available free of charge for Devon-based employers. However, we recognise employers from outside Devon may wish to attend our online training. Therefore, we prioritise places for participants based in Devon, with bookings from other areas held on a waiting list until a space place is available. However all of the information provided in our disability awareness training is relevant only to UK-based law and regulations, which means we are unable to accept any bookings from outside the UK.