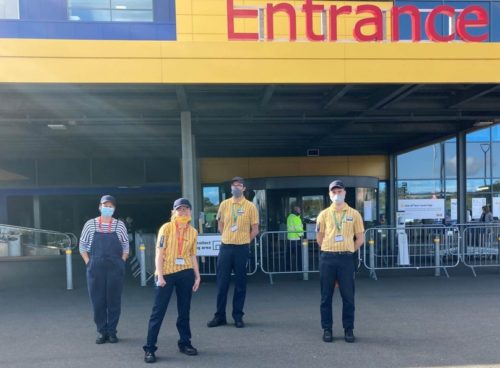 As part of our lead up to #PurpleTuesday next week, the Be Ready team have uncovered success stories that demonstrate how local employers are providing great customer service and know-how for people with disabilities.  We kick off this week by introducing the new 'Superstar' Nina working at Exeter IKEA's restaurant as explained by Restaurant Manager Luke Kennedy. Nina has been on a Supported Internship organised by WESC Foundation Social Enterprise team at IKEA Exeter since September.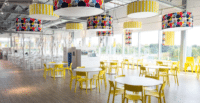 "We first heard of Nina when meeting with Linda Stafford, the Employability and Work Placement Coordinator at WESC Foundation. She described Nina as kind and friendly with a great sense of humour! This could not be more accurate.
Our team, Jonah (Team Leader) and I have noticed Nina flourish in her confidence and skill base over the short period of three weeks. She first arrived understandably nervous and apprehensive but with the support of her work coach Rachel McDonald and our team, Nina became more comfortable and confident. She started to learn a few fundamental tasks key to running our restaurant. Very quickly, she became efficient in these tasks and we started to challenge Nina to develop herself by learning more demanding roles.
Nina has fitted in well with our team and been referred to as a 'superstar'.
Jonah and I would like to thank Nina and Rachel for all their help so far, and to thank our team in being so warm and welcoming. We have been honoured in seeing Nina develop and grow with us at IKEA. We have had amazing feedback from WESC Foundation and are super excited to welcome Nina into our team – as we have offered Nina a paid 6-month role with us.
We can't wait to see what the next 6 months bring for Nina!"
Linda Stafford added "From day one, the staff have fully embraced Nina as part of their team and made her feel welcome. They are always offering help and support if needed. They enjoy having her there, so much so they have offered Nina a temporary paid position. Ikea have gone above and beyond our expectations of an Employer, especially in offering our student such an amazing opportunity."
A great example for #PurpleTuesday! Thank you to IKEA Exeter and the WESC Foundation for giving Nina the opportunity to show off her talents and skills. If your organisation would like to know more about the benefits of employing people with disabilities or long term health conditions, contact us at the Be Ready Employer Hub now.