Join Us to celebrate #PurpleTuesday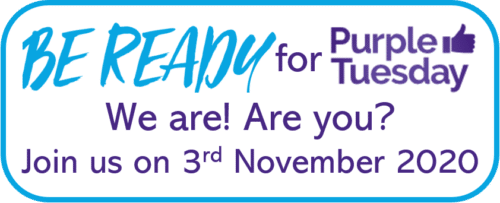 What is #PurpleTuesday? It's an annual national campaign aimed at getting us to think about the needs of disabled people as customers and how we can change their customer experience. And Be Ready is celebrating this event with two webinars and a host of information and videos to help your business understand the benefits of better customer service and accessibility for people with disabilities.
Led by Purple.com's Chief Executive Mike Adams, #PurpleTuesday highlights the commercial value of doing the right thing for customers with disabilities. Did you know that in the UK a fifth of the population have a disability? And together with their families and friends, disabled people have a spending power valued at £274 billion! Or that there are 7.1 million online customers with access needs who each spend an average of £3640 each year? But less than 10% of businesses in the UK know how to access this Purple Pound market. Not only is it hugely frustrating for disabled people, it is also a big missed commercial opportunity!
In the lead up to #PurpleTuesday on 3rd November 2020, we will be posting blog articles and videos here on our website and our social media (Be Ready's LinkedIn page and our Twitter @BeReadyHub). Then we will be participating and hosting two webinars (Monday 2nd and Tuesday 3rd November – both starting at 2pm) featuring a panel of local business people who will share their experience of catering to the Purple Pound market and practical tips of how to make your business more accessible too. For more details and how to register for these free events, please use this link to go to our Events page.