There's No Limits for this cafe in Newton Abbot!
No Limits Café, Kitchen & Hub celebrate #PurpleTuesday everyday!
The #PurpleTuesday annual campaign is focused on what we can all do to improve the customer experience for disabled people every day.  As a friendly, accessible Community Café and Kitchen, with an inclusive and supportive environment for all, the No Limits Cafe in Newton Abbot leads by example in great customer service. And if you are in Newton Abbot on #PurpleTuesday (3rd November), look out for the team wearing their sashes and badges selling their Homemade Butterfly Cupcakes as they celebrate #PurpleTuesday!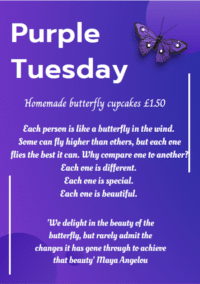 They are a Not-for-Profit Community Interest Company, founded by Sarah Thorp and Amanda Pugh, with the aim of supporting adults with additional needs to access employment opportunities – a cause very close to their hearts. They aim to be accessible in all respects including physically, financially and from a communication and sensory perspective.
The No Limits Cafe provides Supported Employment, Supported Internship and work experience opportunities such as Food Hygiene and Barista Training alongside their Coffee Supplier 'The Coffee Company'. They offer real-world learning and training to adults and young people with additional needs and disabilities to support their skills development as they transition to more mainstream work opportunities and a more independent adult life. Their core aims are to enable their participants to have vocational skills to go with their enhanced social, team, organisational and time management skills – all leading to increased confidence and self-esteem.
In the cafe you will find a Total Communication environment, for example they are both a Makaton and Autism-friendly setting. They provide menus, recipes and information available in written, symbol and braille formats to support more independent choices and communication for every customers. They have staff who are Level 1 Makaton trained, can support in job coaching the various roles in the café and kitchen, and who are there to support their customers' needs too. For example they recognised that having family members with Sensory Processing Difficulties can make it trickier to relax in a café environment, so there are 'sensory kits' available for customers to borrow.
And they are mindful about the environment too! Where possible they use fresh, local and seasonal ingredients and produce. They are very careful with their ordering, supplies and deliveries to reduce the cafe and kitchen's carbon footprint.
Sarah Thorp adds 'As both Makaton Tutor and a parent of a young person with additional needs, I became very aware that unemployment levels for those with disabilities were disproportionately high. Opportunities such as No Limits are much needed in the area and it is vital that we are inclusive in supporting and enabling all in society to reach their employment and life-goals. If we can be a small part of that and work towards creating a more inclusive environment for all, then we will certainly be closer to our own life-goals too.'
A goal very close to the hearts of us at Be Ready Employer Hub too! The cafe is also a Disability Confident Employer, which means they have been assessed to be as disability-friendly as possible. You can find out more about the No Limits Community Cafe and Kitchen on their Facebook page or their website.