The Purple Pound is the estimated spending power of disabled households (disabled people and their families) in the UK. Currently (in 2020) it is thought to be worth £249 billion (and is expected to increase year on year). But by not understanding the needs and difficulties disabled people face when trying to shop on-line, British businesses are losing £ billions – see our Information Hub page on the "Click Away Pound".
Research shows the Purple Pound is a relatively untapped market, with disabled consumers having a reputation for being very loyal when effort is made to simplify the buying process for them. For example, here are some facts and statistics which highlight how the Purple Pound could impact your bottom line and promote business growth: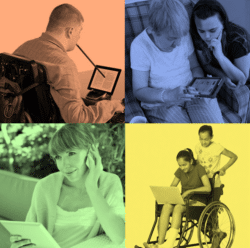 When a fifth of your potential consumers are disabled, it makes sound business sense to understand their buying behaviours, needs and wants. And the simplest way to do this is to employ, work with or contract with people and organisations with lived experience of disability – especially those colleagues who are responsible for marketing your products and services. Market research is vital, so it is worth connecting with other organisations who have experience of working with, and on behalf of, disabled people.
Two key factors for best practice sales and customer service in the Purple Pound market:
always see the disabled person as a person first, rather than identify potential consumers solely by their disability. This way you will avoid your unconscious bias and expectations that a person's disability

prevents

them doing something rather than the more active (and positive) focus on what the person

can do / wants to do

with your product or service.
ensure any "customer facing" staff (including on-line) are up to date on their disability awareness and knowledge (especially in their understanding of how to react). People will share good and bad experiences (especially the bad ones!) on social media so your organisation's reputation can be called into question. As mentioned above, disabled people and their families have a higher level of brand loyalty than the typical customer.
This is where the Be Ready Employer Hub can help. We offer free-to-attend disability awareness training workshops, B2B Learning Networks, or use our online Information Hub, where you can search for information under three themes:
Be Prepared – where you will find articles and regularly-updated information about all the legal, regulatory and practical aspects of understanding disability and employment.
Be Commercial – information and posts (such as this one) on how to adapt your business to access the Purple Pound.
Be Connected – information about local charities, specialists and suppliers who can help your business.
We can also help your organisation achieve the Disability Confident award, which is often seen as a 'Badge of Honour' by disabled people when making buying and employment decisions about businesses. This also sends a signal to your employees and suppliers that your organisation is committed to the recruitment and retention of disabled people.
---
For more detailed information on any aspect of disability and employment, please go to our Information Hub page. Alternatively, you can contact the project team either via our on-line form or call us on 01392 241124.
Please note: we are not responsible for the contents or reliability of linked websites and do not necessarily endorse the views expressed within them. Listing shall not be taken as endorsement of any kind. We cannot guarantee that these links will work all of the time and we have no control over availability of the linked pages.
We do not object to you linking directly to the information that is hosted on this website and you do not need permission to do so.