Access to Work (A2W) and Covid-19
During the coronavirus (COVID-19) outbreak, disabled people can still get financial support to work from home, thanks to an extension to the Access to Work scheme. This includes enabling people who are clinically extremely vulnerable to get their applications fast-tracked, and changes to what the funding can cover, for example, covering taxi fares if a health condition prevents using public transport during the pandemic.
As Covid-19 changes how we work and having to adapt to new working environments, Access to Work can play a key role in supporting disabled people to retain, return to and move into employment. For more details on the changes, follow this link to a DWP Press Release "New help on offer for disabled people working from home during the pandemic".
What does Access to Work provide?
Access to Work (A2W) provides support and grants to help people who have a disability or long-term health condition to do their job.
If you are worried about the additional costs of employing someone who has a disability or long term physical or mental health condition, Access to Work can provide financial support where help or adaptations go beyond any reasonable adjustments you may have to make. It provides:
Advice to disabled people, Deaf people (British Sign Language users), people with long-term health conditions and employers.
An assessment of a person's needs in the workplace. This can help when an individual or their employer may not know what support they need or what is available.
A grant towards the cost of any necessary support, such as transport, specialist equipment, communication support and/or a support worker. The grant is currently worth up to a maximum of £60,700 per individual per annum (1 April 2020 to 31 March 2021).
What can it pay for?
Special equipment or adaptations, for example IT equipment, desks, or adaptions to machinery.
Taxis to work for those who cannot use public transport. Travel can include 'in work' if an employee has to work at different sites or fulfil an outreach role. Travel coaching may also be considered to support someone to be able to use public transport in the future.
A support worker or job coach to help in the workplace.
A workplace mental health support service (WMHSS) for staff. This specialist mental health strand can help someone identify and manage any triggers, compile a safety plan or provide a support worker.
Disability awareness training for work colleagues.
A communicator at a job interview or in the workplace.
Moving equipment following a change of location or job.
When can it be used?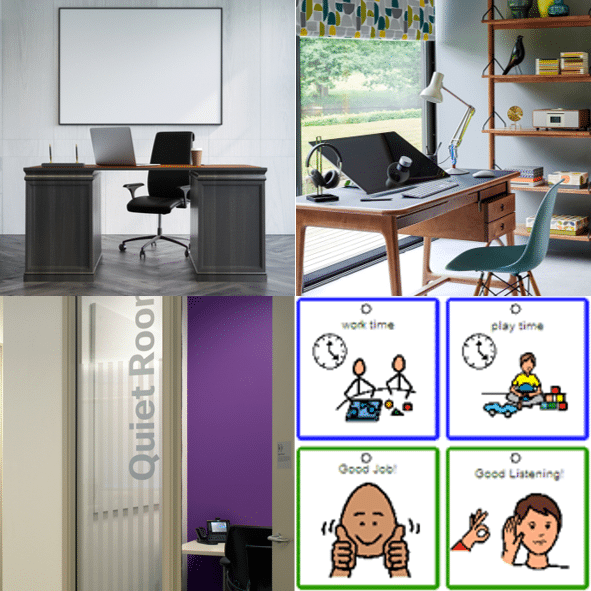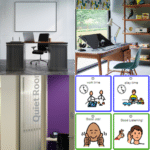 Access to Work is provided where an employee needs support or adaptations that are over and above what an employer should legally provide.
If making an adjustment would be beyond reasonable for the size of your business then Access to Work can help. 80% of disabilities are hidden so support or adaptations are not just about installing a wheelchair ramp or widening doorways. Depending on the nature of the person's disability or condition, simple solutions need not cost a lot of money. For example:
Moving an employee's desk to a quieter area if their hearing aid picks up too much background noise.
Introducing flexi-working and working from home.
Providing a 'quiet room' if an employee needs time out at certain points during the day.
Creating visual aids to help a person understand what they are required to do.
Who is eligible?
To be eligible an employee must:
Be over sixteen years old.
Normally live and work in England, Scotland or Wales.
Have a disability or a health condition that has a negative impact on their ability to do their job.
Be in or about to start paid employment, including self-employment. For Access to Work purposes, paid work is:
Full or part-time paid work, whether permanent, casual or temporary.
Self-employment.
A job interview.
About to start a job or work trial.
Work experience.
Apprenticeship or supported internship
Tips to remember!
The

employee

has to make the application.
Your employee may not know Access to Work exists!
Access to Work cannot be used for unpaid work.
Access to Work will provide a Workplace Assessment report to help you find the right equipment, coaching or training for your member of staff.
The sooner your employee makes a claim the more likely you are to get support reimbursed by Access to Work.
For more information visit the Gov.uk site Access to Work Guide for Employers. There is also a Factsheet for Customers available which includes the latest changes and updates for Covid-19.
---
For more detailed information on any aspect of disability and employment, please go to our Information Hub page. Alternatively, you can contact the project team either via our on-line form or call us on 01392 241124.
Please note: we are not responsible for the contents or reliability of linked websites and do not necessarily endorse the views expressed within them. Listing shall not be taken as endorsement of any kind. We cannot guarantee that these links will work all of the time and we have no control over availability of the linked pages.
We do not object to you linking directly to the information that is hosted on this website and you do not need permission to do so.