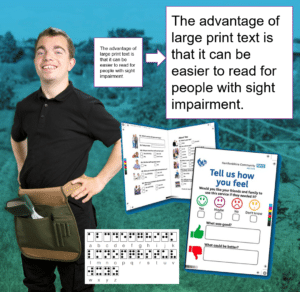 One way you can make a reasonable adjustment in the workplace is to make sure that information you provide is accessible. Not only does this ensure staff communications can be understood by everyone, it also sets a best practice standard for creating a more inclusive workplace. Employees will feel fully included in their work environment, able to contribute their thoughts and ideas. Employers can enjoy the benefits of having a more diverse workforce – ensuring greater creativity and innovation.
Providers across the NHS and adult social care system are directed by an Accessible Information Standard (AIS), which ensures patients and service users who have information or communication needs relating to a disability, impairment or sensory loss, can receive information about services they use and are able to read, receive and understand.
Although commercial and charity organisations are exempt from implementing the standard (unless commissioned to deliver a health or social care contract), there are key actions which can be adopted from the AIS to improve your employee and customer experiences.
Accessible information enables people who are unable to read a standard print letter to independently read correspondence (such as employment contracts, appraisal records, training documents), and apply for and carry out work with a level of confidentiality and autonomy that those of us without communication needs take for granted.
Plus providing accessible information not only opens up your employment opportunities to a wider audience of talented and skilled individuals, it can also result in a greater number of people being able to access the services you provide.
Examples of accessible information
Information can be communicated using a variety of alternative formats and methods, and for different situations. Whilst you may need to consider providing alternative formats in response to specific requests, there are some good principles of communication you can put in place, which may reduce the need for alternative formats to be produced. When preparing documents or website information it is good practice to:
For some people, their impairment may still make accessing written text difficult. In this case, you will need to consider accessible formats that meet these needs, in addition to making your original documents and templates more accessible.
Some examples of alternative formats:
Large print – this is printed information enlarged or otherwise reformatted to a larger font size. Using a sans-serif font may also be required. This may be needed by a person who is blind or has some visual impairment. Different font sizes are needed by different people.
Easy read – this is where straightforward words and phrases are used, supported by pictures, diagrams, symbols and / or photographs to aid understanding. Easy Read is often used for people who have a learning disability or for Deaf people whose first language is British Sign Language and may have a limited ability to read, write or speak English.
Braille – a tactile reading format used by people who are blind, deafblind or who have some visual loss. Readers use their fingers to 'read' or identify raised dots representing letters and numbers. Although originally intended (and still used) for the purpose of information being documented on paper, braille can now be used as a digital aid to conversation, with some smartphones offering braille displays. Refreshable braille displays for computers also enable braille users to read emails and documents.
Audio scripting – a verbal narrative or transcript of text that usually assembles documents into logical segments to be easy to navigate. This is useful for people who have a visual impairment. The main audio formats are:

audiotape
digital audio files, for example MP3 format
CD-ROM / CD (audio versions of documents are generally provided on CD-ROM or as MP3 files)

British Sign Language (BSL) – this is a language used by the UK's Deaf community. BSL was officially recognised by the Government as being a full, independent language in March 2003. Providing BSL alternatives will make communication and information more accessible to people whose first or preferred language is BSL. You may have seen BSL live commentary on the TV or at public televised events. BSL clips can be recorded in advance and added to websites to convey key information.
There are further examples of accessible formats on the Gov.uk website here: Guidance – Accessible Communication Formats.
Providing accessible information not only relates to written documentation, it can also apply to how we communicate in person. There are different roles used for communication support involving trained individuals. Here are some examples:
Advocate – a person who supports an individual who may otherwise find it difficult to communicate or to express their point of view. Advocates can support people to make choices, ask questions and to say what they think.
BSL interpreter – A person skilled in interpreting between British Sign Language and English for a person who is d/Deaf or deafblind.
Notetaker – in the context of accessible information, a notetaker produces a set of notes for people who are able to read English but need communication support, for example because they are d/Deaf. Manual notetakers take handwritten notes; electronic notetakers type a summary of what is being said onto a laptop computer, which can then be read on screen.
Speech-to-text reporter (STTR) – an STTR types a verbatim (word for word) account of what is being said and the information appears on screen in real time for users to read. A transcript may be available and typed text can also be presented in alternative formats. This is a type of communication support which may be needed by a person who is d/Deaf and able to read English.
Translator – a person able to translate the written word into a different signed, spoken or written language, for example translating written documents into sign language.
If you are not sure where to start, the Be Ready Employer Hub is here to help. We can provide support to:
embed best practice principles within your business
access local organisations who have the skills and knowledge to create alternative formats
adopt some simple changes to existing information, policies and practice so they become more accessible.
---
For further information please contact the project team either via our on-line form
Please note: We are not responsible for the contents or reliability of linked websites and do not necessarily endorse the views expressed within them. Listing shall not be taken as endorsement of any kind. We cannot guarantee that these links will work all of the time and we have no control over availability of the linked pages.
We do not object to you linking directly to the information that is hosted on this website and you do not need permission to do so.