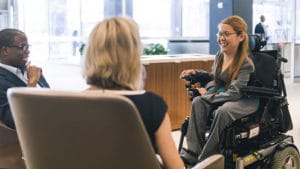 Your journey to changing your business for the better not only involves focusing on what you can do to support current or future employees but also should look at how accessible and attractive you are as a prospective employer. This means thinking about how you recruit people – does this enable you to access the widest pool of talent from the labour market? Ask yourself this:
How do we stand out from other competitors in terms of people wanting to work for our organisation?
Do we promote our values and being a good employer during the recruitment process?
What image do we portray when we have visitors to our premises? (especially when interviewing prospective candidates)
Are we confident that our job adverts / recruitment process is reaching people regardless of their circumstances, health, disabilities, condition or background?
There are nearly 40,000 people in Devon claiming some kind of disability benefit (DWP, 2019). Amongst this number there are going to be people who cannot work and those who do not want to, but there are also thousands of people with a disability or health condition who are able to and want to work. One of the biggest challenges disabled people face is how to get through the recruitment process without fear of being discriminated against.
Reviewing how you recruit can help you fill vacancies with the right person and help a disabled person to demonstrate their ability and how they are right for the job.
How
Think about your advert and the layout – use plain English and try to avoid the use of jargon or acronyms. Use a sans serif font, minimum size 12.
Be clear about the essential requirements of the role that you are looking for.
If you are a Disability Confident organisation, promote it on your job advert, website and in your reception area.
Make sure that the people who are responsible for shortlisting (preferably minimum of two) do not have access to the personal data of candidates (such as gender, disability, race etc) with the main application form. This helps to avoid unconscious bias and discrimination.
Develop a 'Recruitment Statement' setting out the steps you take to ensure your recruitment process is inclusive. Add this to any information supplied with the job advert and description.
Be creative in terms of how you receive applications – consider video applications or a Magna Vitae.
Offer a work trial for a day or two instead of an interview. This can help you get to know the individual better and whether they are suitable for the job, in addition to providing an alternative way for someone to demonstrate their talent and ability.
Be clear in your advert that you will offer reasonable adjustments where required.
Make sure there is a named contact and telephone number in case someone is having difficulty with their application.
Look to advertise as widely as possible including local disability organisations and networks.
Make sure interviewing personnel are confident about the interview process, for example what they can and cannot ask a disabled candidate (more details can be found in our information hub page *** [awaiting link to page].
Finally, here are a couple of examples of local organisations who have adopted a different approach to how they recruit:
Housing Organisation
all job advertisements and job descriptions / person specifications are reading age compatible with the level of the job / minimum qualifications expected
advice for 'first-time' candidates about the workplace culture, dressing for interview, what to expect, timings for interview / assessment activities
Software House
open vacancies – no personal, educational or employment information requested
objective testing – candidates are sent a software task to complete and submit
candidates approach and aptitude evaluated
invited to meet the team and discuss their approach to the task
employment decision is based on aptitude demonstrated and team's reaction
purely merit and aptitude based recruitment
---
For more detailed information on any aspect of disability and employment, please go to our Information Hub page. Alternatively, you can contact the project team either via our on-line form or call us on 01392 241124.
Please note: we are not responsible for the contents or reliability of linked websites and do not necessarily endorse the views expressed within them. Listing shall not be taken as endorsement of any kind. We cannot guarantee that these links will work all of the time and we have no control over availability of the linked pages.
We do not object to you linking directly to the information that is hosted on this website and you do not need permission to do so.