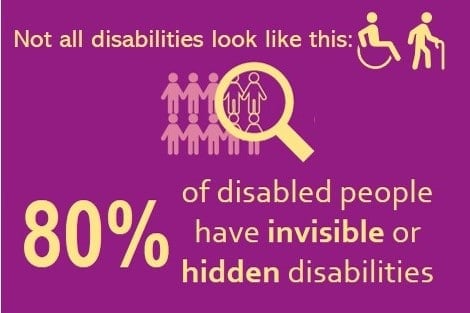 A reasonable adjustment is something that can help prevent or reduce any disadvantage being faced by a disabled person. Reasonable adjustments allow people with disabilities equality of opportunity in the workplace.
As an employer, you have a duty to take steps to remove, reduce or prevent obstacles a disabled employee or job applicant may face, where it is reasonable to do so. However, this does not always mean that you have to spend a lot of money.
Reasonable adjustments can be simple, and are often nil or low cost to implement. Your first key action is to discuss with your employee what will help remove or minimise any disadvantage they are experiencing.
It is important to remember:
Not all adjustments relate to the physical working environment, such as wheelchair ramps.
Other adjustments can be less tangible but just as important, such as changing work hours or increasing one-to-one supervision.
Workplace adjustments can be made for anyone, not just employees with a disability or health condition – for example, changing the working hours of someone who has caring responsibilities.
Making your workplace accessible could have wider cost benefits, such as better access for customers too.
What is reasonable will depend on the size of your organisation and the adjustment that needs to be put in place. If you are a small business, for example, the cost of taxis to and from work each day for a member of staff who cannot use public transport, may not be reasonable. However, the Access to Work scheme could help with this.
Examples of Reasonable Adjustments
It is not possible to list all potential reasonable adjustments, but the following may be helpful to think about the types of changes an employee might need in terms of:
Time
Flexibility around breaks, start and finish times or shift patterns
Reduced working hours
Additional training time or a longer probationary period
Allowing time out for hospital or medical appointments
Job
Provide training or retraining
Making information and training materials easier to access and understand
Matching duties to an individual's strengths and abilities
Swapping minor duties with another worker
Changing work targets or changing the way work is assigned
Transferring to alternative suitable employment if someone's disability worsens
People
Additional support and supervision from managers
Providing a co-worker buddy or mentor support
Disability awareness training to co-workers
Reader or interpreter support
Other support programmes such as Supported Internships [awaiting link]
Place
Transfer to a more suitable or closer work location
Working from home
Making changes to the building including toilets and meeting spaces
Providing aids and equipment, or specialist computer software
Setting up a quiet room for employees to go when they feel particularly anxious or stressed, or if they experience fatigue
Providing a nearby parking space
Policy and Practice
Reviewing how policies are working for people with disabilities
Important policies might include: Recruitment and Selection, Attendance, Grievance / Disciplinary
Training and promotion
Changing policies that have a negative impact on disabled employees
Creating a Disability Access Plan which will benefit staff and customers. This can be worked through within a reasonable time frame and include some ambitious targets where possible
For practical examples, we also have Case Studies on an information hub page – 'Reasonable Adjustments in Practice'.
For further reading please visit these external information sites:
---
For more detailed information on any aspect of disability and employment, please go to our Information Hub page. Alternatively, you can contact the project team either via our on-line form or call us on 01392 241124.
Please note: we are not responsible for the contents or reliability of linked websites and do not necessarily endorse the views expressed within them. Listing shall not be taken as endorsement of any kind. We cannot guarantee that these links will work all of the time and we have no control over availability of the linked pages.
We do not object to you linking directly to the information that is hosted on this website and you do not need permission to do so.