Sickness and Attendance Management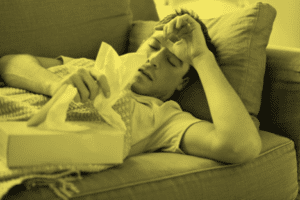 One of the most common fears or misconceptions about people with a disability or health condition, is that they will take an unreasonable amount of time off sick. Almost all employees will periodically incur sickness absence and a disabled employee is no different. However, do not assume team members with a disability or health condition will have more sickness absence than any other team members – this is often not the case. For example, Mencap have found that if placed in the right job, people with a learning disability actually have fewer sick days than people without a learning disability.
Managing sickness and attendance is as much about creating the right working environment and culture as it is about following policy and procedure.
A working environment that values the input and abilities of each and every member of its workforce generates a stronger commitment amongst its staff. More and more businesses are recognising that, in order to remain competitive and sustainable, investment in the well-being of its employees is fundamental. It does not have to be rocket science to achieve this! Essentially, staff should feel that they:
Belong
Are valued
Can maintain a good work-life balance
Can be honest and open
Enjoy their job!
Good morale = less staff off sick!
Think about:
Managers having an open-door policy – staff will feel more able to talk about ideas and concerns
Allocating a buddy or mentor for new starters or staff returning to work
Involving staff in how your business develops – creating opportunities for new ideas
Flexible working, where possible
Home working if appropriate to the role or business
Staff social events that take place away from the business environment and are inclusive
Setting up a staff ideas board or web forum (this can be anonymous!)
Openly promoting how your organisation welcomes diversity
Making sure staff have regular catch-ups or one-to-ones where you not only discuss work but ask 'How are You?' and actively listen to the response!
Showcase how staff are involved in decision making
Providing a 'quiet room' for staff to take time out (we're not talking hours here!) if they feel upset, overwhelmed or anxious about something
Supporting staff to recognise what they are good at and what they can achieve – finding opportunities for staff development, or funding to do so if you are a small business
Not being too precious about hierarchy – we all have the ability to say 'hello' 'good morning' or 'how are you?', regardless of our role or position
Recognising hard work and achievement and different ways to reward this. This does not always have to be monetary nor favour those who put in the longest hours.
All of the above will create a more positive working environment for all staff, not just for those who have a disability or health condition, thereby creating good staff morale and willingness to be at work.
Many people who have a disability or long-term health condition have had to spend a long time developing coping strategies and ways to manage their condition, on a daily basis. However, should the situation arise where a member of staff incurs an unsustainable level of disability related sickness absence, then there are a few considerations a business should bear in mind:
Making sure ongoing consultation and communication has taken place with the employee
Consideration of current medical evidence and the employee's prognosis
Consideration of any steps that can be taken to enable the employee to return to work and/or avoid further sickness absence, including the possible implementation of reasonable adjustments. Irrespective of whether the employee is disabled, if an adjustment is reasonable and would help improve the employee's attendance, it would make sense to implement it
Where appropriate and available, the consideration of alternative duties; and
Suitable periodic warnings from management about the potential consequences, including the possibility of dismissal, should the employee's level of sickness absence remain unsustainable.
Before you reach the point where dismissal becomes a possibility, consider the following:
Have you exhausted all options for an informal resolution?
Have you carried out Return to Work interviews?
Have any assumptions been made? For example, an employee going on holiday does not mean they are not sick.
Has unpaid leave been offered where appropriate?
Have you considered extending trigger points to accommodate disability related sickness?
Are there alternatives to dismissal, e.g. altering existing work patterns or transferring an employee to a suitable alternative role?
Is ill health retirement entitlement or other relevant benefits a possibility?
---
For more detailed information on any aspect of disability and employment, please go to our Information Hub page. Alternatively, you can contact the project team either via our on-line form or call us on 01392 241124.
Please note: we are not responsible for the contents or reliability of linked websites and do not necessarily endorse the views expressed within them. Listing shall not be taken as endorsement of any kind. We cannot guarantee that these links will work all of the time and we have no control over availability of the linked pages.
We do not object to you linking directly to the information that is hosted on this website and you do not need permission to do so.